How do I add a photo or multimedia?
on the top row of buttons there is a multimedia icon

and when the dialog box comes up, upload your file ane provide the title, caption and credit line.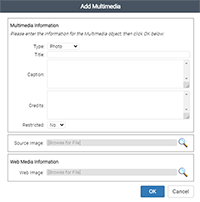 How do I communicate a concern or question to another person in the workflow (eg, co-author, reviewer, Merck Manual editor)?
There are several ways to communicate:
In-line comments: For all issues related to chapter content, we prefer you to use the comments feature in chapters assigned out to you. This way, the recipient can see and modify the text in question. Place your cursor at the text most relevant to your comment (eg, chapter title for general remarks, at the drug dose for concerns about dosing), sweep a word or two, and click the comments button

. This will open a field in which you can write your
General email: The chapter page lists all participants. Clicking on a name will generate an email form. Use this feature only for non-content communications (eg, "did the image come through ok and was the size all right?"). An exception might be if a content issue arises (eg, you find a new journal article with groundbreaking news or a new image) and when you do not have the chapter in your task assignments; in this case you could email the current owner from the chapter page (eg, "I need to make some changes, please forward chapter to me."). You can access the chapter page whether you currently "own" the chapter in the workflow or not.
Chapter workflow notes: There is a workflow notes section for each chapter. This can be used for general comments appropriate to all participants (eg, "New AHA guidelines due out in 2 mo, let's keep our eyes open").
Forwarding email:When you forward a chapter, an email is generated to the recipient. If you wish, you may write a note that will appear in the body of the email. This is for communications pertaining only to the next person in the workflow. For example, this is a good place to indicate that you are sending the chapter for response to one or 2 questions rather than a full review (eg, "quick question on drug dosing---not full review"). Alternatively, you may wish to call attention to a particular trouble spot (eg, "please note my questions regarding test sequencing") or ask the recipient to expedite their work.